Keep Your Brakes Going Strong with MOPAR Brake Service in Budd Lake
Staying on top of brake maintenance is the best way to strengthen your car's stopping power, but that's not all it can do! Paying attention to your brakes and being proactive about scheduling service when they need it can help protect your more expensive brake components, which can help you avoid having to make costly repairs. So, keeping up with brake service at our MOPAR service center in Budd Lake can help you enjoy a safer drive and help you keep more money in your pocket!
When should you change your brakes?
Your car's need for brake service largely depends on a variety of factors. The type of vehicle that you drive and the kind of driving that you do can affect the lifespan of your brakes. For example, stop-and-go traffic, towing and hauling, driving on inclines, and aggressive driving can cause your brakes to wear out faster. Thus, it's important to have your brakes checked regularly so that you can stay ahead of any potential issues.
How can you tell when your brakes need service?
There are a few common signs that your brakes need attention. It's important to keep an eye out for these warning signs and schedule service at our service center near Parsippany and Dover, NJ right away to both improve your car's braking ability and save your vehicle from further damage.
Common warning signs include:
Unusual sounds like grinding or squealing when you brake
Steering wheel vibrations
Spongy or pulsating brake pedal
Car pulling to one side when you brake
Hot burning smell
Illuminated brake warning light
How can you keep your brakes in great shape?
Here at our service center near Morristown, we know how important it is to keep your brakes in excellent condition. We take brake repair very seriously, and we only use genuine MOPAR parts so that you can have the utmost confidence in your car.
If your car needs brake service, please feel free to schedule an appointment with our service center serving Newark, NJ today!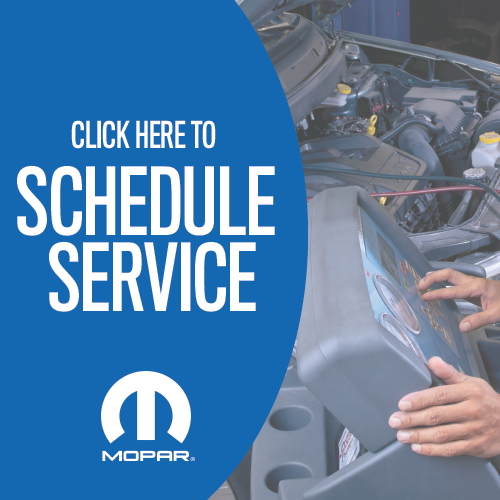 Hours
Monday

09:00AM - 08:00PM

Tuesday

09:00AM - 08:00PM

Wednesday

09:00AM - 08:00PM

Thursday

09:00AM - 08:00PM

Friday

09:00AM - 08:00PM

Saturday

09:00AM - 06:00PM

Sunday

Closed